Scotland's most southerly whisky distillery – and one of its oldest – is coming back into production in time to celebrate its 200th anniversary.Bladnoch Distillery near Wigtown was bought out of administration by Australian entrepreneur David Prior.He made a fortune out of organic yoghurt and decided to invest about £25m of it in the facility.
It is hoped it will eventually lead to production of more than a million litres a year from the site.Mr Prior has been back in Scotland for the first time since refurbishment started.It has cost £5m on top of the near £20m spent acquiring the run-down facility and, importantly, the valuable casks of ageing malt in its large complex of bonded warehouses.
Back in 2015, after years of under-investment, Bladnoch's potential was not universally apparent.However, Mr Prior saw scope to combine hard-headed business with the romance of a product close to his heart."The Scotch whisky category is a very great opportunity from a business perspective but it is also a huge passion of mine," he said."It's something that I have been involved in since I was 18 years old, my father and I used to have a drink together at the end of every week and download and share stories about the week."So I have grown up in a Scotch-drinking household."
He said the Bladnoch site was "steeped in history" and something he had fallen in love with.
The Australian yoghurt millionaire is an unlikely saviour for a facility economically important to rural Galloway.So far nine jobs have been created on site and more will follow with the development of a visitor centre and the possible need for extra shifts to meet a production target of one-and-a-half million litres a year. He may be largely an absentee owner, but Mr Prior said his actions and hard cash underlined his commitment to the local community.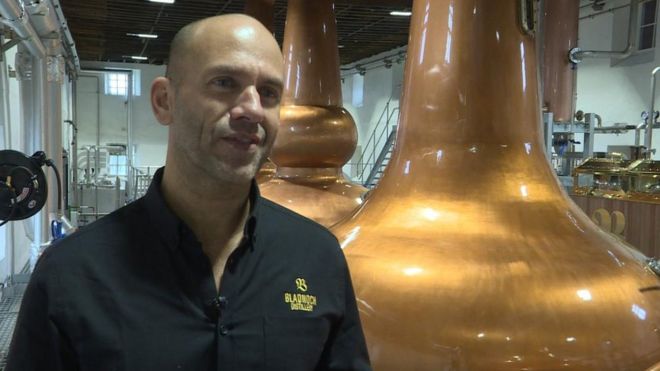 photo BBC